Gustine Middle School won 2nd place in the Middle School Challenge for Valley Childrens Hospital Annual Kids Day Thank you to all for your donations.

Freshman Campus Visit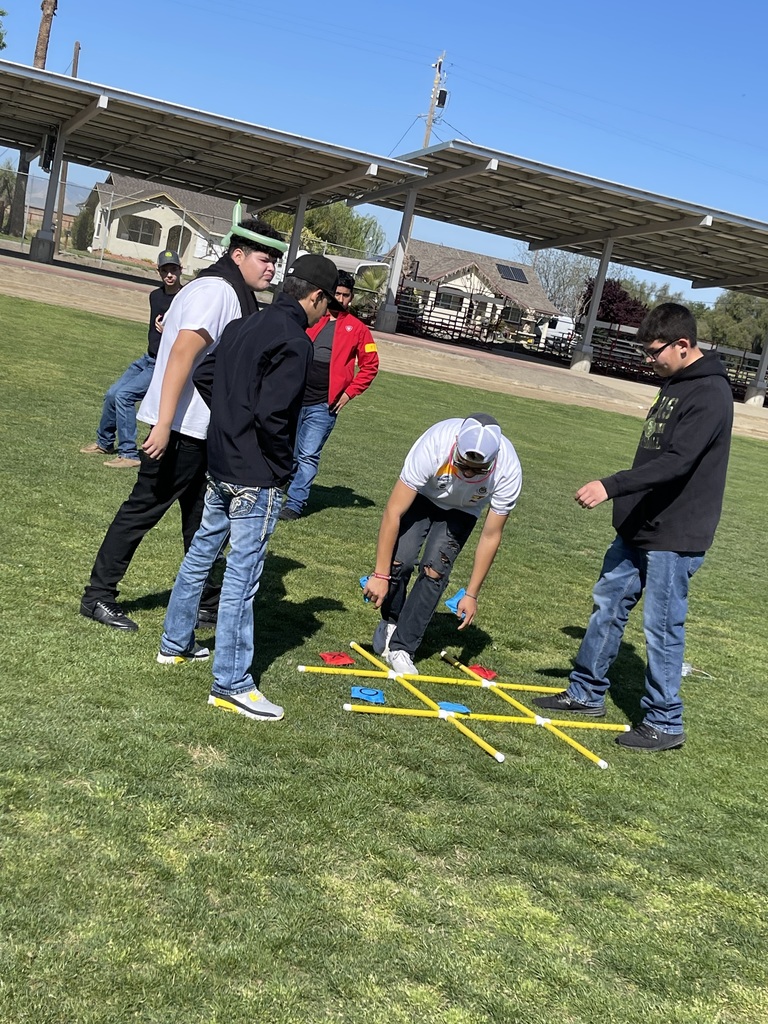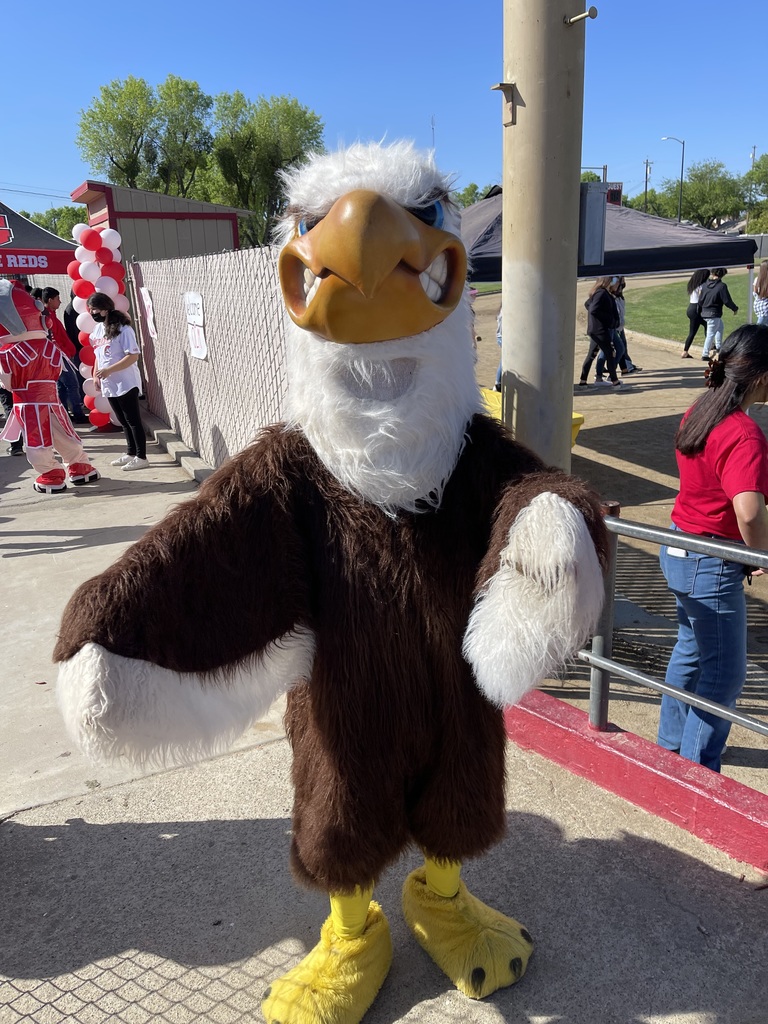 Freshman Campus Visit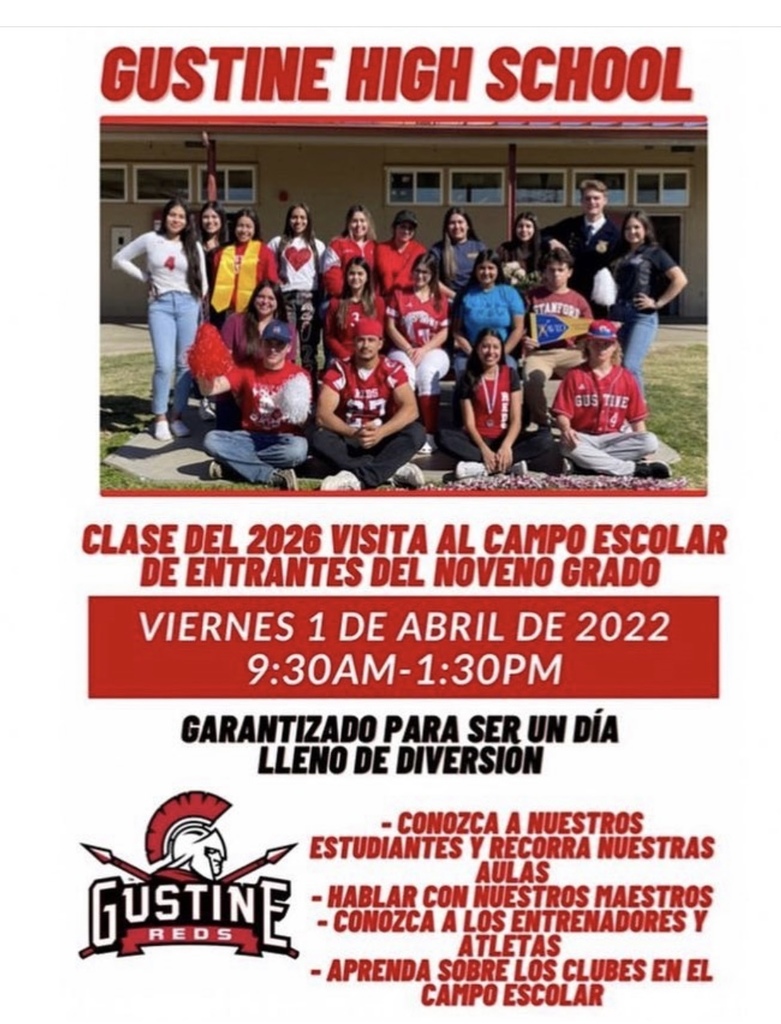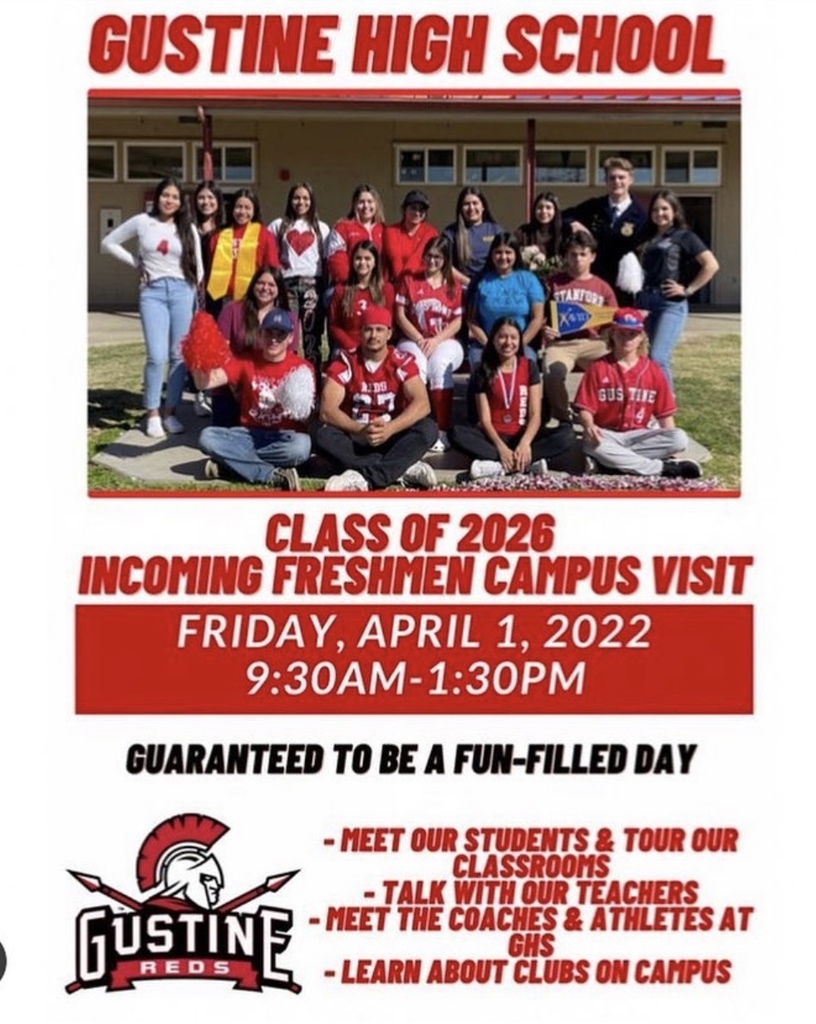 CAASPP testing will begin on Monday, April 4th and end on Tuesday, April 12th Please ensure that your child charges his/her computer every night, bring their chargers to school every day, get a good nights rest and eat a healthy breakfast. We will have headphones available, but if your child would like to bring their own headphones to test, they are welcome to. ​

Distance Learning/Hybrid Schedule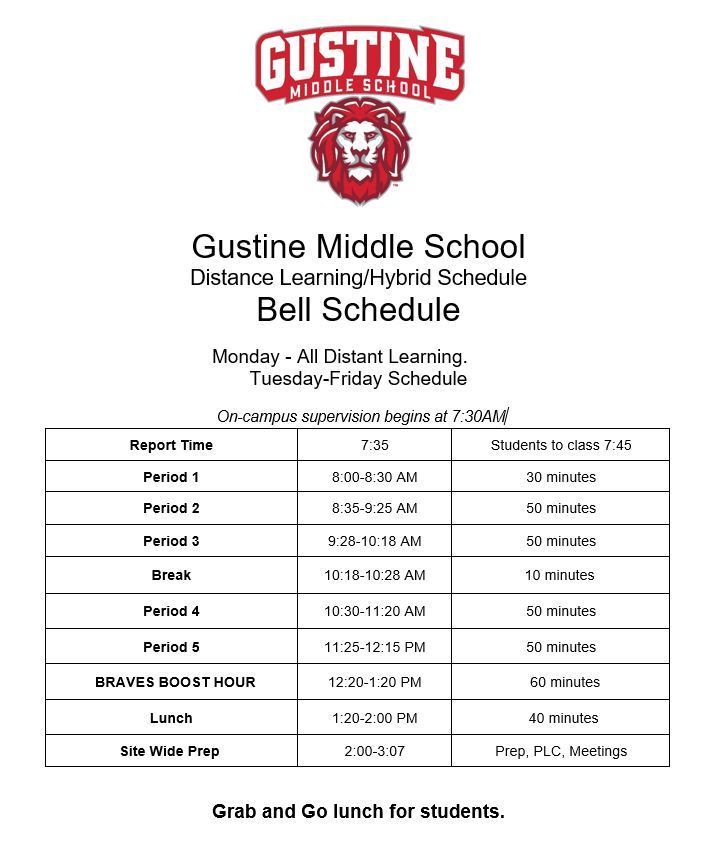 THE IMPORTANCE OF ATTENDANCE YOUR CHILD'S ATTENDANCE AND ENGAGEMENT IN CLASS IS ESSENTIAL FOR THEIR ACADEMIC GROWTH. DURING DISTANCE LEARNING, STUDENTS MUST BE ATTENDING LIVE INSTRUCTION WITH THEIR TEACHERS DAILY. ENSURE THAT ALL ASSIGNMENTS ARE COMPLETED AND SUBMITTED. REMINDER: TEACHERS HAVE DAILY OFFICE HOURS RANGING FROM 1:00-3:00 PM FOR ADDITIONAL SUPPORT (TEACHERS' HOURS ARE POSTED ON THEIR GOOGLE CLASSROOM) QUESTIONS ABOUT ATTENDANCE CONTACT MRS. MARTINEZ AT
MMCHAVEZ@GUSTINEUSD.ORG
OR CALL (209) 854-5030 EXT 501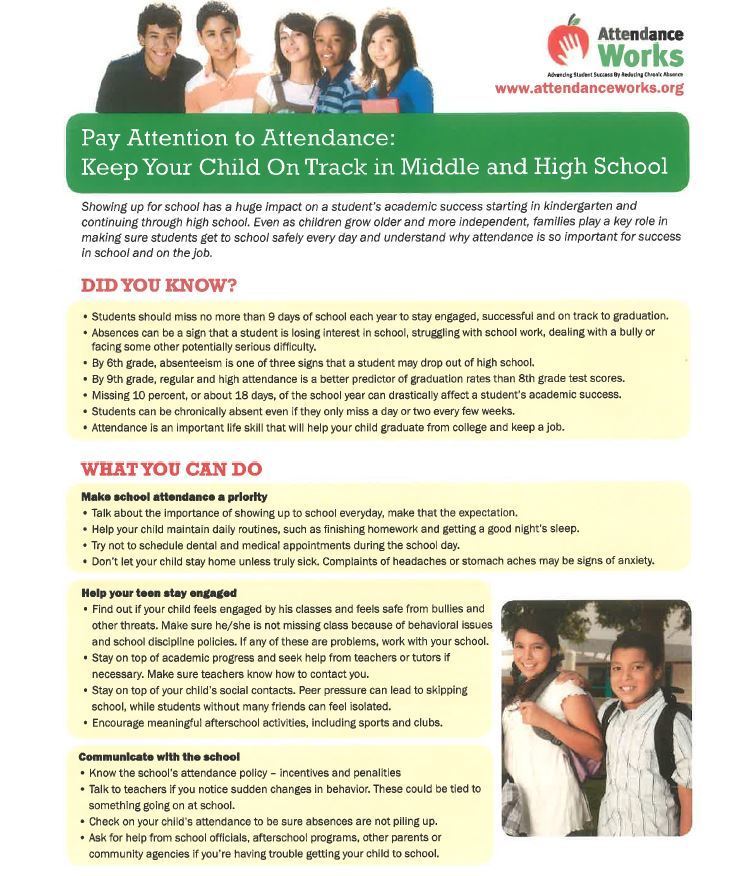 California Parent and Youth Helpline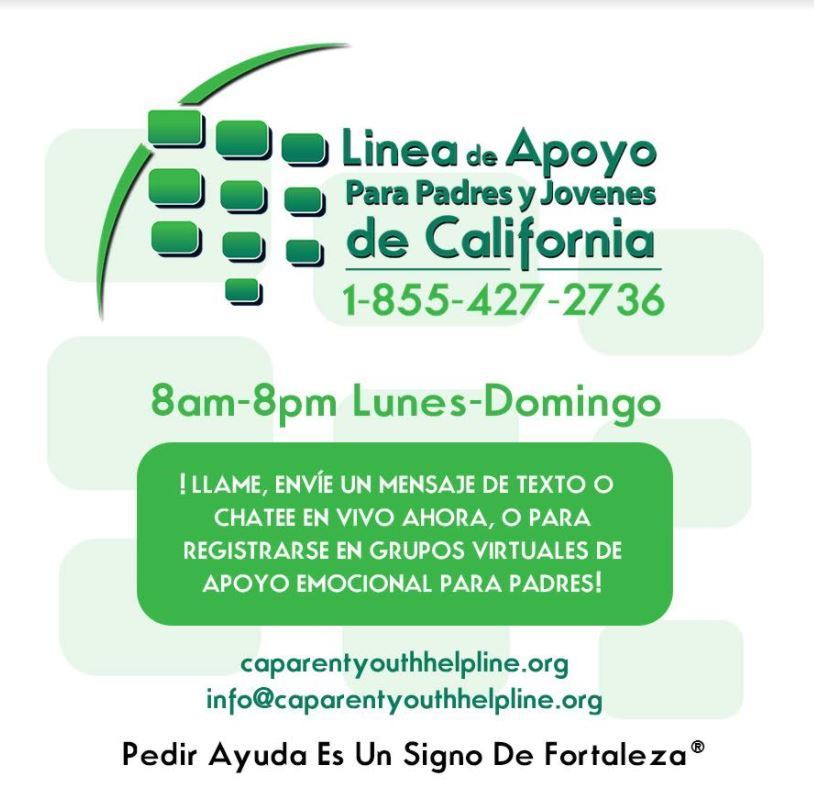 Distance Learning Schedule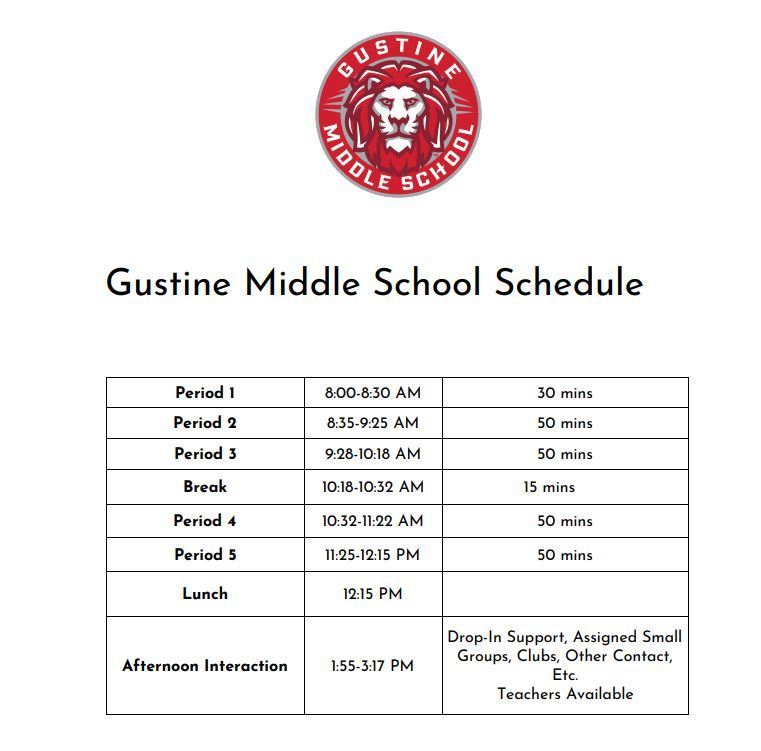 Orientación viernes, 7 de agosto

Round Up Friday, August 7th

The GMS Roundup is Friday August 7th, for more information click the image below.

Great News! Beginning next week, we will be providing weekend meals for all children 18 years old and under. On Fridays we will be serving a breakfast and lunch for both Saturday and Sunday along with Friday's meals. Please see the menu below.

Welcome to the new website and mobile apps for Gustine USD!